Who's behind that website? Ask us!
philadelphia.cbslocal.com - Philadelphia Cbs Local
Visit site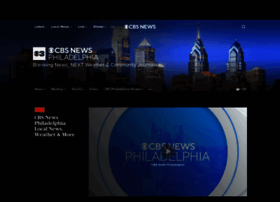 Title: CBS Philly
Description: 1-6-2014 2:00AM - 5:30AM Big Daddy Graham 5:30AM - 10:00AM Angelo Cataldi and The Morning Team 10:00AM - 1:00PM Middays with Michael Barkann & Ike Reese 1:00PM - 5:00PM Afternoons with Anthony Gargano & Rob… News, Sports, Weather, Traffic...
Related searches: Cbs Philly Weather, Philadelphia Cbs Local, Cbs Local Phila, Cbs Traffic Philadelphia
Related sites