Who's behind that website? Ask us!
lojabbb.com.br - Loja Bbb Com
Visit site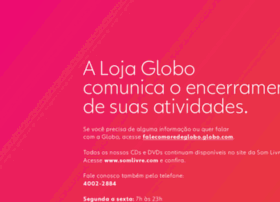 Title: Globomarcas: DVDs, Novelas e Programas. A loja dos produtos Globo
Description: Globomarcas.com é a loja virtual de produtos da rede globo. São Dvds de novelas, Cds com trilhas sonoras das melhores novelas e programas, Livros, Mais Você, Malhação, Caldeirão do Huck, The Voice, Multishow e GNT.
Created: 13 December 2006
Expires: 13 December 2018
Owner: Regina Sampaio Globo Comunica?o e Participa?oes SA
Related searches: GLOBO MARCAS CATALOGO BB
Whois

domain:      lojabbb.com.br
owner:       Globo Comunica?o e Participa?oes SA
ownerid:     027.865.757/0021-48
responsible: Regina Sampaio
country:     BR
owner-c:     RES59
admin-c:     RES59
tech-c:      CTG6
billing-c:   RES59
nserver:     ns01.oghost.com.br  

more
Related sites