Who's behind that website? Ask us!
khaleejtimes.ae - Khaleej Times
Visit site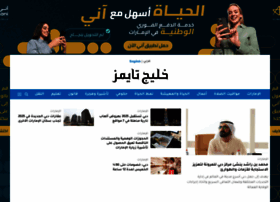 Title: Khaleej Times - Dubai News, UAE News, Gulf, News, Latest news, Abu Dhabi News, Arab news, Sharjah News, Gulf News, Dubai Business News, UAE Business News, Dubai Sports, Live Dubai Weather, Jobs in Dubai, UAE Classifieds, Gold Rates, Forex, Oman News...
Description: Khaleej Times Online provides complete news coverage from UAE and online utilities like Dubai Gold Rate, Dubai draft rate, UAE Exchange rate, silver rate
Owner: GOVT OF DUBAI-DUBAI INTERNET CITY.
Related searches: Khaleej Times Gold Forex, Title Of A Weather Newspaper, Gulf News Ae, Laptop Ad In Khaleej Times, Jobs In Khaleej Times
Whois
Domain Name:                     khaleejtimes.ae
Registrar ID:                    Etisalat
Registrar Name:                  Etisalat
Status:                          ok

Registrant Contact ID:           ETSLT138489-R
Registrant Contact Name:         GOVT OF DUBAI-DUBAI INTERNET CITY.
Registrant Contact Email:        Visit whois.aeda.ae for Web based WhoIs

Tech Contact ID:                 C041309
Tech Contact Name:               Farid Fareedoni

more
Related sites