Who's behind that website? Ask us!
dadsworksheets.com - Dads Worksheets
Visit site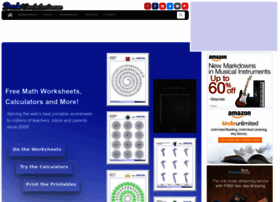 Title: Free Printable Math Worksheets at DadsWorksheets.com
Description: DadsWorksheets.com delivers thousands of free printable math worksheets for home schooling or classroom use on a variety of math topics including multiplication, division, subtraction, addition, number patterns, order of operations, standard form...
Created: 20 May 2008
Expires: 20 May 2020
Owner: BLUEHOST.COM- INC ATTN: DADSWORKSHEETS.COM
Related searches: Dads Worksheets Ks3, Free Ks3 Tutor Activities Worksheet, Dads Worksheets, Dads Worksheets For Math
Related sites