Who's behind that website?

Ask us!
autogidas.lt - Autogidas
Visit site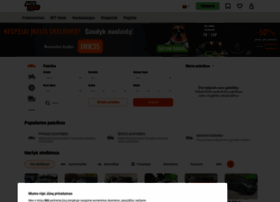 Title: Auto transporto skelbimai. Auto dalys, padangos, KET - Autogidas.lt
Description: Autogidas.lt - auto transporto skelbimai, auto dalys, ratlankiai, padangos, paslaugos, auto nuoma, kelių eismo taisyklės bei ket testai, forumas, straipsniai
Created: 03 March 2016
Owner: UAB "BALTNETOS KOMUNIKACIJOS"
Related searches: Auto Gidas Skelbimai, Autogidas Motociklai, Autogidas Padangos, Autogidas Ket, Auto Skelbimai
Whois
% Hello, this is the DOMREG whois service.
%
% By submitting a query you agree not to use the information made
% available to:
% - allow, enable or otherwise support the transmission of unsolicited,
%   commercial advertising or other solicitations whether via email or
%   otherwise;
% - target advertising in any possible way;
% - to cause nuisance in any possible way to the registrants by sending
%   (whether by automated, electronic processes capable of enabling
%   high volumes or other possible means) messages to them.

more
Related sites